I am the proud mother of three amazing children.  I was lucky to find the Bradley Method 22 years ago when I was pregnant for the first time.  The techniques that I learned in my classes gave me the tools that aided me in having a successful natural birth in a hospital setting.  Four years later for the birth of my second child I again used the Bradley Method to assist me in getting through a pitocin induction at 42 weeks pregnant.  I managed to avoid pain medications and birthed a beautiful 9 pound 14 ounce daughter.  With my third baby I decided on a home birth and the Bradley Method was again invaluable at keeping me calm and relaxed while I birthed my 11 pound 7 ounce baby girl.
For the past 19 years I have been a La Leche League Leader and continue to work with the group leading monthly meetings and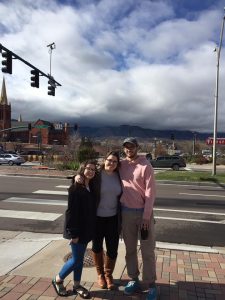 answering helpline calls.  I love to help Mothers and Babies get breastfeeding off to a good start and keep the relationship going for as long as they wish.  In addition to teaching Bradley Natural Childbirth Classes I am also a Birth Doula and an International Board Certified Lactation Consultant (IBCLC).  My passion for natural childbirth and natural parenting can be seen in everything that I do.
Childbirth is empowering to women and I love to teach women to take that power and work with it during their labor.  The woman's partner is an integral part of this experience and the Bradley Method works towards teaching partners the skills to help the woman during this transformational experience.
I am located near 1604/Bulverde Road.
Teaching Schedule for Tina:
Classes are held on Thursday Evenings from 7 to 9pm
September 13th – November 15th
November 29th – January 31st, 2019
Tina also teaches one-on-one classes for those who can not fit a group class into their schedule.
I can be reached at 361-548-4143 or tinacastellanos@gmail.com