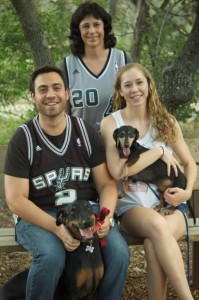 I have been teaching since 1991, and truly feel blessed to be a Bradley® instructor; I hope to continue for many years. I was a doula for close to 10 years and the added experience of attending close to 100 births enhances my teaching. I feel honored to be part of this incredible time in a couple's life.
My kids are my greatest pride and joy. My son and his wife currently live in San Marcos as my son completes his DMA in trombone performance. My daughter lives in Houston and is a music therapist and also volunteers for a dog rescue. My mom now lives with me and will probably tell you hi when you arrive at class.
I work full time as a special education assistant at a local high school.   When I'm not working, teaching or spending time with my family, I like to watch movies and spend time meeting friends for breakfast on the weekend.
Teaching Schedule for Julie:

In-person 2022 Class Schedule
October 2 – December 4, Sunday afternoon
November 20 – January 29, 2023, Sunday evening
In-person 2023 Class Schedule
January 8 – March 12,  Sunday Evening
March 19 – May 14, Sunday Evening
April 15 – June 10, Saturday morning
May 21 – July 16, Sunday evening
June 17 – August 12,  Saturday morning
July 23 – September 17, Sunday Evening
Currently only teaching in-person classes. My teaching space is large so we can socially distance and wear masks. 
                                                                   Private and small group classes also available.
                                                                            Contact Julie at Juliebw3@charter.net or 210-854-5885